Persimmon-Cranberry Cookies with White Chocolate
One of the most underrated fruits of the season, persimmons are bursting with bright, orange color and loads of flavor – just what we need in the dark winter months! And the Hachiya variety are so easy to incorporate into the winter baking festivities. Just be sure you let them ripen until they are nice and soft so that their natural sweetness comes out. If you don't have the patience for baking, just scoop out the beautiful orange flesh and eat with a spoon!
Makes 18-20 Cookies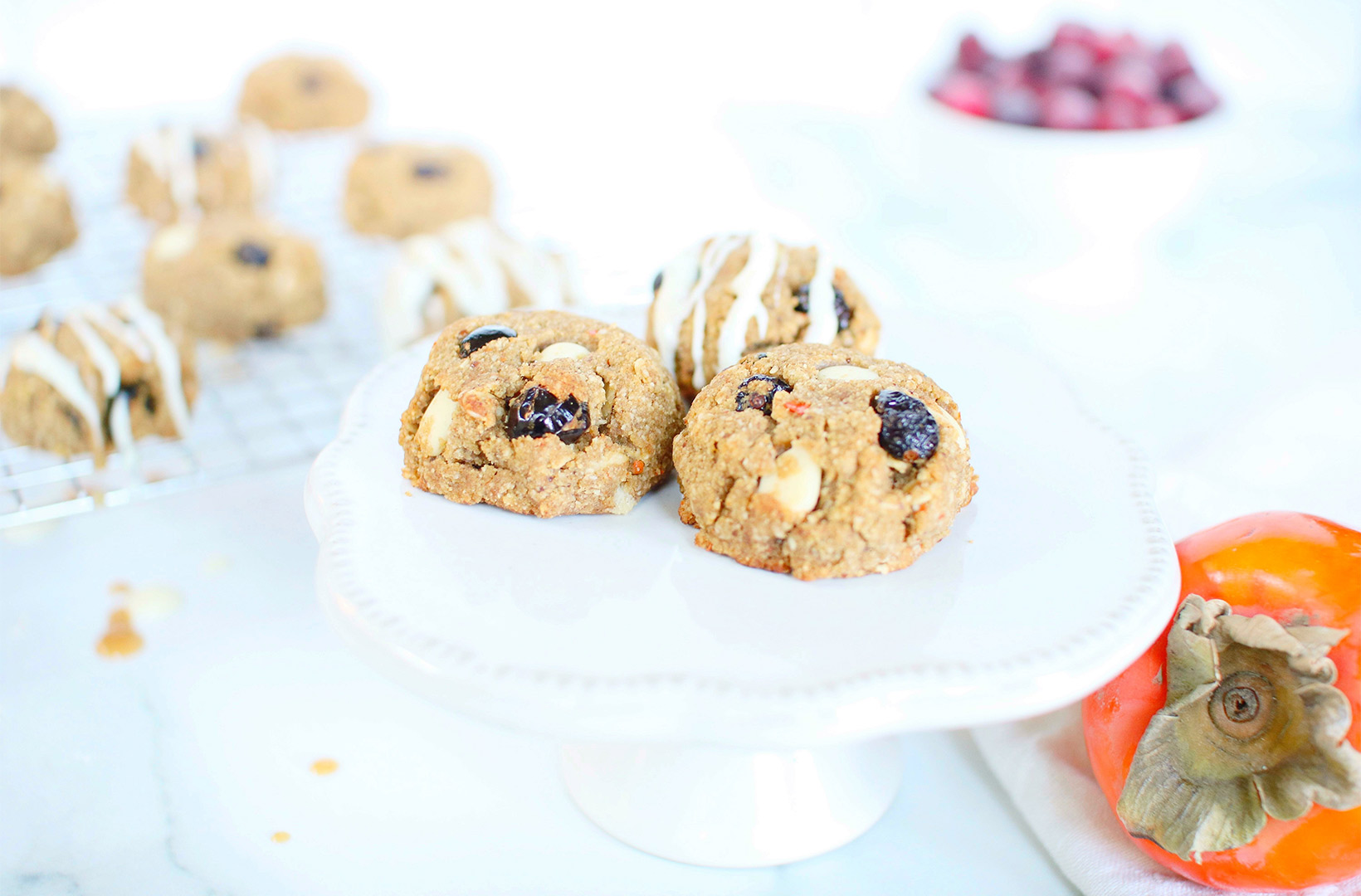 Persimmon-Cranberry Cookies with White Chocolate
Ingredients
1/2

cup

Coconut oil, melted

3/4

cup

Puréed Hachiya Persimmons (about1-1 ½ persimmons, see note 1)

1/2

cup

Coconut sugar or Monkfruit (for Keto option)

1

Flax egg or chicken egg (see note 2)

2

tsp

Vanilla extract

1/2

tsp

Cinnamon

1/4

tsp

Nutmeg

1/4

tsp

Ground Ginger

1/8

tsp

Allspice

1

tsp

Baking powder

1/2

tsp

salt

1/3

cup

Gluten-free old-fashioned oats

1/2

cup

Dried cranberries (juice-sweetened, preferred)

1/4

cup

White chocolate chips, store-bought or homemade (seenote 3)
Instructions
Preheat oven to 350-degreesand line pans with parchment.

Combine oil, puréed persimmons, coconut sugar or Monkfruit, flax or chicken egg, vanilla and spices (cinnamon through allspice) in a blender or bowl and blend or whisk until well-combined.

In a large bowl, mix baking powder and soda, salt, almond and coconut flours, and oats. Add in persimmon mixture ingredients and stir until no lumps are visible. Fold in cranberries and white chocolate chips(note: instead of including the chips in the cookie, you can melt them and drizzle on top of the cookies once cooled.)

Using a cookie scoop or by hand, scoop out mixture into 1 ½-inch balls and slightly flatten on baking pans. If mixture is too wet, refrigerate until firm.

Bake for 10-13 minutes or until just starting to brown. Cool on pans for 5-10 minutes and then transfer to a cooling rack to cool completely. If using white chocolate drizzle, heat white chocolate chips in the microwave in a heat-proof bowl for 30 second increments, stirring until completely melted. Drizzle with a spoon over cooled cookies. Cookies can be stored at room temperature for 5-7 days or in the freezer for up to 3 months.
Notes
Note 1: Ripe Hachiya Persimmons are very soft. You can speed up the ripening process by either freezing them overnight or putting them in a loosely covered container with an apple.
Note 2: For one flax egg, mix 1 TB flaxmeal with 3 TB warm water, stir, and wait 5-10 minutes to gel.
Note 3: To make a vegan, refined sugar-free white chocolate, add 3 oz cacao butter, ¼ cup 100% pure maple syrup, and ½ cup raw cashew butter to a small saucepan. Heat over medium-low, stirring with a whisk until cacao butter has fully melted and is incorporated. Remove from heat and add 1 tsp vanilla extract. Drizzle while warm or put into molds for desired shape.